What does it mean to "#LiveLikeAustin"?
Austin was a normal teenager. He was not perfect. He became a man, but he was not 100% ready to leave his childhood behind. He was studious, he loved tennis and Wranglers, he enjoyed his friendships, and he loved horsing around.
At the base level, he was a person of faith. That's what fueled him.
What does that mean? For us, it means he was...
Redeemed - He knew his Savior, and he sought his identity in Christ
Served - He knew helping others was part of his walk
Intentional - He lived his life on purpose, and he was ready for the challenge
Discipler - He desired to help others grow closer to God
Relational - He engaged with others to encourage and enjoy each other

See: www.watermark.org/blog/austin-silvas-full-life
Our pastor, Todd Wagner, put it another way. Here are 13 reasons you ought to live like (imitate) Austin:
1. Because your life is gonna end just like his did, and the time to prepare is right now
2. Because you don't know if your life is gonna end at 77 or 17
3. Because you are alive today, you might as well make the most of it
4. Because you're a sinner in need of grace just like Austin was
5. Because people pleasing creates nothing but insecurity, anxiety, and despair
6. Because anxiety and despair ruin your life
7. Because Austin understood he had a heavenly Father who wants to care for him
8. Because there are others around you who need you
9. Because there are others around you who need Jesus
10. Because the good life is found in Austin's Lord
11. Because Austin knew what happens in Vegas does not stay in Vegas
12. Because what happens for the Lord stays in eternity
13. Because Austin isn't here to live anymore
Austin can't love high high school this year.
Austin can't be a godly husband.
Austin can't be a good big brother.
Austin can't share Christ with anybody.
Austin can't be generous with his life.
Some of us can....
​Losing Austin is hard. We laughed, played hard, wrestled, talked a lot, worked alongside each other, etc. As a parent, I never want to lose sight of those things, but God had a greater purpose for him beyond my dreams for him. I must admit I don't understand it yet. God help me to live like Austin in these difficult days. Help me to live like you Jesus. The closer we get to Jesus, the closer we get to Austin and all the saints. As Stephen Curtis Chapman says, we're just on the long road home....

See the full transcript of Austin's Celebration
Service:
www.watermark.org/message/4825
​
Powered by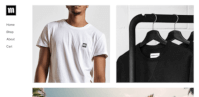 Create your own unique website with customizable templates.